Reset Password

Built-in "Win the Listing" Listing Presentation
Inventory is low and the competition is high for listings. Set yourself apart from the competition with Listing Booster. Our built-in presentation will quickly show your potential sellers the advantages of going with an agent that utilizes Listing Booster. The presentation is mobile friendly and can easily sent by text message or email.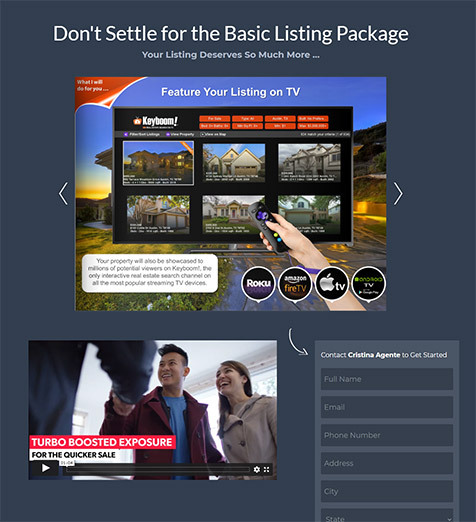 Expert Organic Lead Generation
Utilize our lead generation tools, technology, and expert team to leverage your listings and generate leads from the top national portals and social media sites.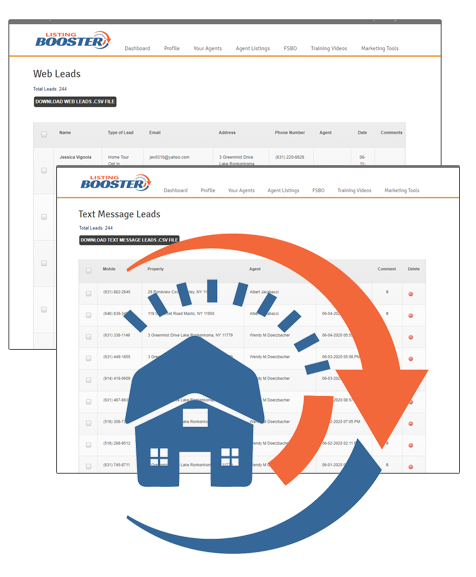 Instagram Real Estate Listing Photos
The Instagram age demographic is ripe for buyers and sellers. We will generate a variety of images (Just Listed, Price Reduced, Pending Sale, etc) designed for Instagram with text code lead capture for each of your listings. All images can be sent directly to your mobile device for easy Instagram posting.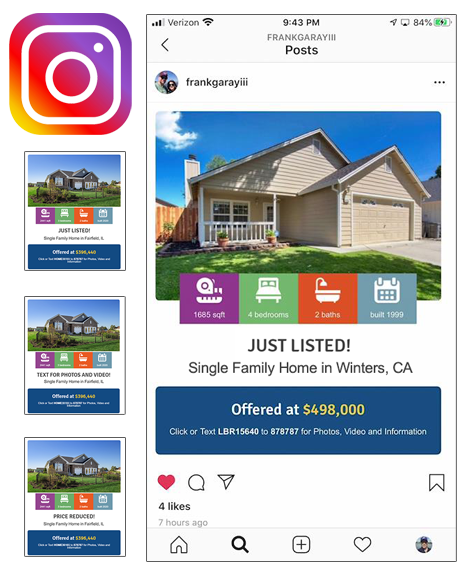 Listings Featured on TV
Listing featured on the first and only interactive real estate search platform on Roku, Amazon Fire TV, Android TV and Apple TV.
Learn More

Dedicated Property Websites
Professionally designed with buyer lead capture opt-in option. Automatically generated from the MLS in most markets.
See example

Property Reports
Show potential buyers not just vague stats, but exactly what they want to know. How far is Costco? Walgreens? What is the best Italian restaurant nearby? Nearest recreation lake to boat? Sell the area by featuring the best places to shop, eat, and spend recreation time. Also show them how much the property could appreciate in the future with our "Appreciation Gain Forecast". Each report includes professional infographics in both digital and print formats.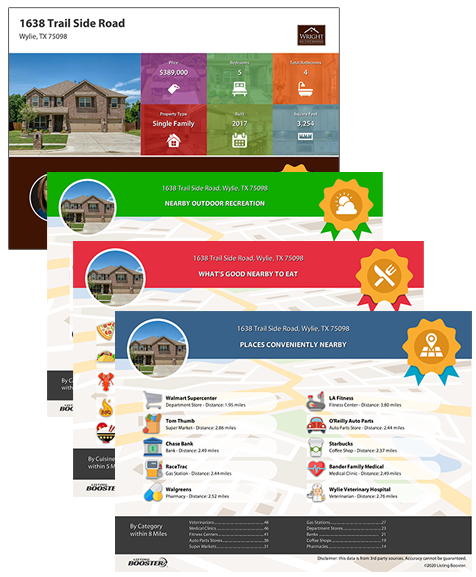 Professionally Designed Property Flyers
Choose your own custom colors. Choose the single page property flyer (property data), two page flyer (property and nearby places data) or three page flyer (property, nearby places, and cost/appreciation gain forecast data).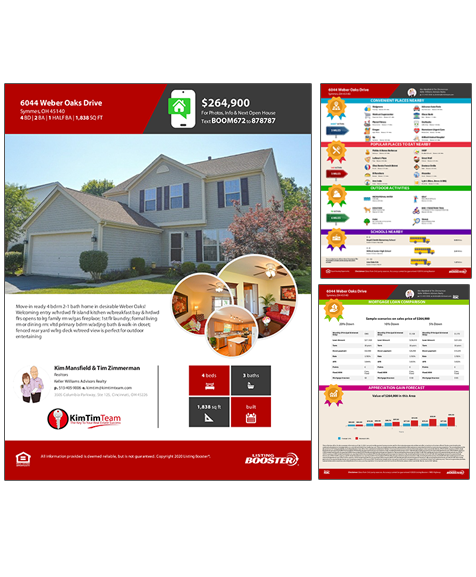 SMS/Text Message Lead Capture System
Display your codes on your sign riders, print ads, social media postings and Craigslist. System instantly sends the prospect a property tour to their mobile device and sends you the lead. See an example, send "LBR700" to (844) 573-0700.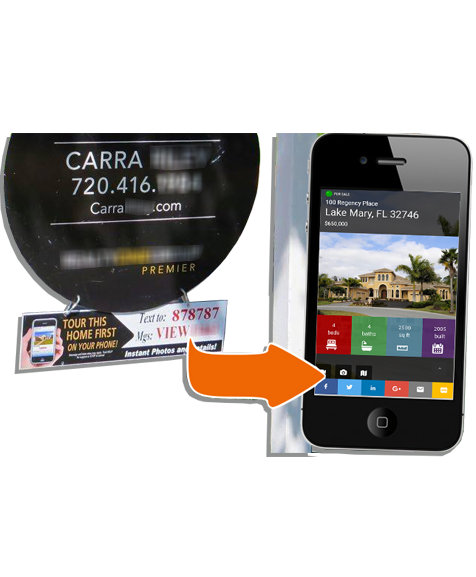 Expert Coaching on Winning Listings, Lead Generation, and Lead Follow Up
Get the most out of Listing Booster by attending our coaching webinars.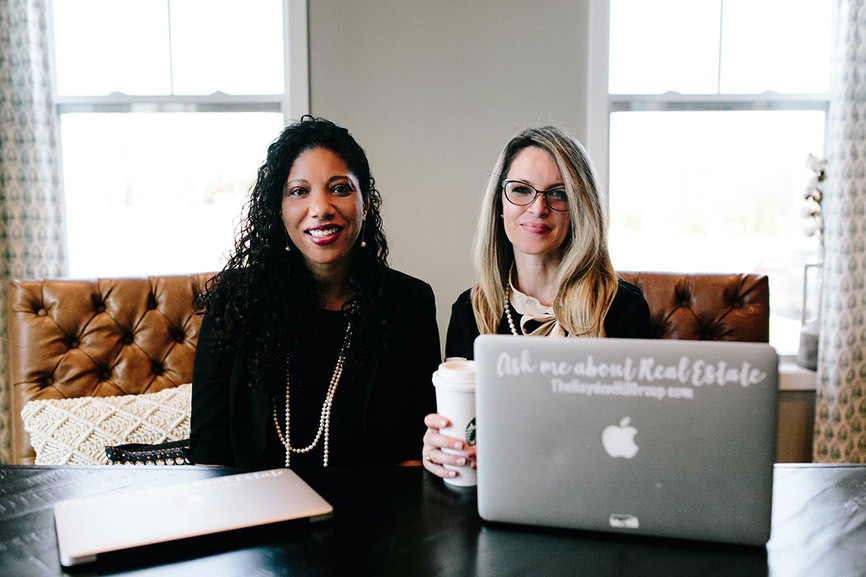 This Privacy Policy governs the manner in which Listing Booster collects, uses, maintains and discloses information collected from users (each, a "User") of the https://listingbooster.com/ website ("Site"). This privacy policy applies to the Site and all products and services offered by Listing Booster.

Personal identification information

We may collect personal identification information from Users in a variety of ways, including, but not limited to, when Users visit our site, fill out a form, and in connection with other activities, services, features or resources we make available on our Site. Users may be asked for, as appropriate, name, email address, phone number, credit card information. Users may, however, visit our Site anonymously. We will collect personal identification information from Users only if they voluntarily submit such information to us. Users can always refuse to supply personally identification information, except that it may prevent them from engaging in certain Site related activities.

Nonpersonal identification information

We may collect nonpersonal identification information about Users whenever they interact with our Site. Nonpersonal identification information may include the browser name, the type of computer and technical information about Users means of connection to our Site, such as the operating system and the Internet service providers utilized and other similar information.

Web browser cookies

Our Site may use "cookies" to enhance User experience. User's web browser places cookies on their hard drive for recordkeeping purposes and sometimes to track information about them. User may choose to set their web browser to refuse cookies, or to alert you when cookies are being sent. If they do so, note that some parts of the Site may not function properly.

How we use collected information

Listing Booster may collect and use Users personal information for the following purposes:
- To process payments
We may use the information Users provide about themselves when placing an order only to provide service to that order. We do not share this information with outside parties except to the extent necessary to provide the service.
- To send periodic emails
We may use the email address to send User information and updates pertaining to their order. It may also be used to respond to their inquiries, questions, and/or other requests.
How we protect your information

We adopt appropriate data collection, storage and processing practices and security measures to protect against unauthorized access, alteration, disclosure or destruction of your personal information, username, password, transaction information and data stored on our Site. Sensitive and private data exchange between the Site and its Users happens over a SSL secured communication channel and is encrypted and protected with digital signatures.

Sharing your personal information

If you fill out an information request or contact form of any kind on the Listing Booster website, that information will be forwarded to the real estate agent and/or loan officer connected to the property you're inquiring about. Otherwise we DO NOT sell, trade, or rent Users personal identification information to others. We may share generic aggregated demographic information not linked to any personal identification information regarding visitors and users with our business partners, trusted affiliates and advertisers for the purposes outlined above.

Changes to this privacy policy

Listing Booster has the discretion to update this privacy policy at any time. When we do, we will revise the updated date at the bottom of this page. We encourage Users to frequently check this page for any changes to stay informed about how we are helping to protect the personal information we collect. You acknowledge and agree that it is your responsibility to review this privacy policy periodically and become aware of modifications.

SMS Terms and Conditions:

Electrik Eye Enterprises Corp SMS Services via Listing Booster.

Program Description:

Electrik Eye Enterprises Corp allows mobile subscribers to opt-in to receive information about real estate listings through SMS messages straight to the subscriber's phone.

The subscriber may also receive additional communication from a real estate or mortgage professional in reference to the opted-in property. This communication can be via additional SMS messages, email, and/or phone call communication.

By clicking Submit (1) YOU authorize Listing Booster to send the information YOU provided to a participating lender and (2) YOU authorize a participating lender and Listing Booster to deliver or cause to be delivered to YOU at that phone number, telemarketing calls which may use an automatic telephone dialing system, an artificial or prerecorded voice or text message. Standard message and data rates may apply. YOU understand that YOU are not required to provide this consent and authorization and it is not a condition to qualify for a loan or receive any good or service. YOU also acknowledge that YOU may receive emails with mortgage-related information.

Supported Carriers:

Electrik Eye Enterprises Corp's SMS services are available on the following carriers:

Appalachian Wireless, AT&T, Bluegrass Cellular, Boost Mobile, Cellcom, Cellular South, Centennial Wireless, GCI, Immix Wireless, Inland Cellular, IV Cellular, Nex-Tech Wireless, nTelos, Metro PCS, Sprint, T-Mobile®, U.S. Cellular, United Wireless, Verizon Wireless, Virgin Mobile USA, and West Central Wireless. T-Mobile is not liable for delayed or undelivered messages.

Cost:

There are no premium charges for receiving property information via SMS, however Msg and Data rates may apply.

Message Frequency:

If you opt-in to receive property information, you will receive one SMS message in reference to the opted-in listing from Electrik Eye Enterprises Corp.

Your acceptance of these terms

By using this Site, you signify your acceptance of this policy. If you do not agree to this policy, please do not use our Site. Your continued use of the Site following the posting of changes to this policy will be deemed your acceptance of those changes.

Contacting us

If you have any questions about this Privacy Policy, the practices of this site, or your dealings with this site, please contact us.

Last Updated October 10, 2017



Terms and Conditions of Use
By utilizing the Listing Booster service ("Listing Booster Service"), you (both "Agent" and "Lender" or any third party working on behalf of Agent and Lender) are agreeing to be bound by these "Terms and Conditions of Use", all applicable laws and regulations, and agree that you are responsible for compliance with any applicable federal and state laws. Should you not agree with any portion of the Terms or become discontent with the Listing Booster Service in any way, your only recourse is to discontinue use of the Listing Booster Service.
Listing Booster's services include, but are not limited to:
Marketing of real estate listings, real estate agents, agencies, brokers, mortgage lenders, banks, brokers, loan officers, mortgage loans, mortgage loan products included on but not limited to dedicated property websites, virtual tours, mobile device pages, mobile applications, property text messaging, social media, print flyers, electronic open house registers, consumer follow up campaigns, etc.
Indemnification:
You agree to hold harmless and indemnify Listing Booster, other Listing Booster users, clients, any third party entity related to Listing Booster (including, without limitation, third party vendors), and Listing Booster's executives, directors, officers, attorneys, managers, employees, consultants, contractors, agents, parent companies, subsidiaries, and cosubsidiaries with the same parent company as Listing Booster, from and against any and all liabilities, losses, costs, judgments, damages, claims, or causes of actions, including, without limitation, any and all legal fees and expenses, arising out of your Content, your use of Listing Booster Service, your connection to Listing Booster Service, your violation of the Terms, or your violation of any rights of another.
Content:
You understand that all imported listings, messages, verbiage, images, photos, video, sounds, blog entries or other materials posted on, transmitted through, or linked from Listing Booster Service, are the sole responsibility of the person from whom such content ("Content") originated. Specifically, you are entirely responsible for all Content that you post, email or otherwise make available via Listing Booster Service. You agree to not use Listing Booster Service to: upload or otherwise transmit any Content that is knowingly inaccurate, unlawful, harmful, threatening, abusive, harassing, tortious, defamatory, vulgar, obscene, libelous, invasive of another's privacy, hateful, or racially, ethnically or otherwise objectionable harm minors in any way; impersonate any person or entity. You understand that Listing Booster does not control, and is not responsible for Content made available through Listing Booster Service, and that by using Listing Booster Service, you may be exposed to Content that is offensive, indecent, inaccurate, misleading, or otherwise objectionable. You acknowledge that Listing Booster does not prescreen or approve Content, but that Listing Booster shall have the right (but not the obligation) in its sole discretion to refuse, delete or move any Content that is available via Listing Booster Service, for violating the Terms or for any other reason. You agree that you must evaluate, and bear all risks associated with, the use of any Content, that you may not rely on said Content, and that under no circumstances will Listing Booster be liable in any way for any Content or for any loss or damage of any kind incurred as a result of the use of any Content posted, emailed or otherwise made available via the service.
Third Party Sites:
Listing Booster makes available resources to "Agent" and "Lender" to distribute content such as but not limited to property websites and virtual tours to third party sites which Listing Booster has no control. It's solely the responsibility of both Agent and Lender of the Content distributed to third party sites. Distributing content from Listing Booster Service is done at your own risk and Listing Booster is not responsible for the accuracy of Content distributed.
Disclaimer of Warranties:
You expressly agree and understand that your use of the Listing Booster Service is at your OWN risk. Listing Booster disclaims all warranties of any kind, whether implied or expressed, including but not limited to implied warranties and merchantability for a particular purpose and noninfringement. Listing Booster makes no warranty that the Listing Booster Service will always meet your requirements; the Listing Booster service will be uninterrupted, secure, accurate, or free of errors. All materials used or downloaded from Listing Booster Service is done at your own discretion and risk and that only you are responsible for any damage to your computer system or loss of data that results from downloading or using any material from Listing Booster Service. No written or oral advice or information given from Listing Booster Service will create any warranty not stated in these terms.
Changes, Updates, and Interruption of Service:
Listing Booster reserves the right at any time to make updates, changes and temporarily interrupt services to make said updates and changes without notice. This includes modifying, discontinuing content and previously existing feature of Listing Booster Service both temporarily and permanently. You agree that Listing Booster shall not be liable to you or to any other party for any modification or discontinuance of any facet of Listing Booster Service.
Listing Booster Account Software Licenses:
Lender is paying for Lender's master account license and to carry and maintain 100 lender cobranded Agent account software licenses at $1.97 each per month. Once Lender gives ONE account software license to Agent, Agent should reimburse Lender for Agent's share of the $1.97 monthly cost Lender is paying to carry Agent's ONE license to remain in compliance with RESPA's Regulation X Section 3500.14 as Agent's individual lender cobranded account software license could be deemed a "thing of value". Please see "Refund Policy" section.
Listing Booster Service Termination:
You agree that Listing Booster, in its discretion, may terminate your account, removing ALL content and complete use of Listing Booster Service for any reason, including, without limitation, lack of payment by you or your cosponsoring lender or if Listing Booster believes that you have violated or acted inconsistently with the "Terms". Listing Booster may also in its discretion and at any time discontinue providing Listing Booster Service, or any part thereof, with or without notice. You agree that any termination of your access to Listing Booster Service under any provision of Terms may be carried out without prior notice, and acknowledge and agree that Listing Booster may immediately deactivate or delete your account and all related Content, graphics, photos, and files. Furthermore, you agree that Listing Booster shall not be liable to you or any thirdparty for any termination of your access to Listing Booster Service.
Lender Cancellations:
All monthly recurring subscriptions will automatically renew until it is cancelled. Cancellations MUST be done in writing via email to desk@listingbooster.com ten (10) days before next recurring payment is due to avoid being charged for the following month. When a Lender account is cancelled or suspended, all Agent accounts under Lender account will be cancelled also. Listing Booster reserves the right to cancel any Lender account, at any time, without notice, for any reason Listing Booster considers appropriate.
Agent Cancellations:
Agent understands that once its cosponsoring Lender account is cancelled for any reason likewise its account will be cancelled. Agent understands that this can occur at any time and that any monies passed from Agent to Lender to share in marketing expenses will not be refunded (*see Refund Policy below). Listing Booster and the previous cosponsoring Lender will not be responsible for any materials lost including but not limited to Content, images, files, property websites, virtual tours, texting codes, mobile device tours. Agent may voluntarily cancel its account by contacting its cosponsoring Lender to cancel Agent account. If cosponsoring Lender is not responsive Agent may contact Listing Booster for account cancellation at desk@listingbooster.com at any time. Listing Booster is not responsible to Lender for any Agent account removals. Listing Booster reserves the right to cancel any Agent account, at any time, without notice, for any reason Listing Booster considers appropriate.
Refund Policy:
Refunds will be only be given to Lender in the event of an error in billing. Agent understands that any monies given to Lender to share as reimbursement for its portion of marketing costs in compliance of Regulation X Section 3500.14 is nonrefundable.
Policies and Pricing:
Listing Booster's policies are subject to change without notice. Listing Booster reserves the right to make price changes and in the event of price changes Lender will be given 30 days' notice before price changes are in effect.
Copyright:
All content included on this site and the Listing Booster system, such as verbiage, logos, graphics, videos, audio, downloads, and software, is the property of Listings Booster and/or its Agent and Lender clients and protected by US and international copyright laws. The compilation of all content on this site is the exclusive property of Listing Booster. All code and software used on the site and within the inner workings of the Listing Booster system is protected by United States and international copyright laws.
Trademarks:
The Listing Booster name and logo are trademarks of Electrik Eye Enterprises Corp. Other Listing Booster graphics, content are trade dress of Electrik Eye Enterprises Corp. Listing Booster trade dress may not be used in connection with any product or service that is not related to Listing Booster. All other logos and trademarks including but not limited to real estate broker and mortgage company logos, slogans, verbiage, photos, and head shot photos not owned by Listing Booster or its affiliates that appear on this site are the property of their respective owners, who may or may not be affiliated with, connected to, or clients of Listing Booster.
SMS Terms and Conditions:
Electrik Eye Enterprises Corp SMS Services via Listing Booster.
Program Description:
Electrik Eye Enterprises Corp allows mobile subscribers to opt-in to receive information about real estate listings through SMS messages straight to the subscriber's phone.

The subscriber may also receive additional communication from a real estate or mortgage professional in reference to the opted-in property. This communication can be via additional SMS messages, email, and/or phone call communication.
By clicking Submit (1) YOU authorize Listing Booster to send the information YOU provided to a participating lender and (2) YOU authorize a participating lender and Listing Booster to deliver or cause to be delivered to YOU at that phone number, telemarketing calls which may use an automatic telephone dialing system, an artificial or prerecorded voice or text message. Standard message and data rates may apply. YOU understand that YOU are not required to provide this consent and authorization and it is not a condition to qualify for a loan or receive any good or service. YOU also acknowledge that YOU may receive emails with mortgage-related information.
Supported Carriers:
Electrik Eye Enterprises Corp's SMS services are available on the following carriers:

Appalachian Wireless, AT&T, Bluegrass Cellular, Boost Mobile, Cellcom, Cellular South, Centennial Wireless, GCI, Immix Wireless, Inland Cellular, IV Cellular, Nex-Tech Wireless, nTelos, Metro PCS, Sprint, T-Mobile®, U.S. Cellular, United Wireless, Verizon Wireless, Virgin Mobile USA, and West Central Wireless. T-Mobile® is not liable for delayed or undelivered messages.
Cost:
There are no premium charges for receiving property information via SMS, however Msg and Data rates may apply.
Message Frequency:
If you opt-in to receive property information, you will receive one SMS message in reference to the opted-in listing from Electrik Eye Enterprises Corp.
Support and Help:
For help/suppport information please contact Electrik Eye Enterprises Corp at 855-743-7431.
Privacy Policy:
To review our Privacy Policy, please click here.
These Terms and Conditions were last updated October 10, 2017